Welcome to Leykis 101.com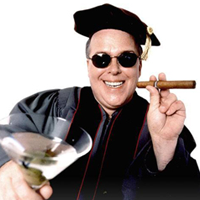 Gentlemen, look no further: you're finally home. Leykis 101.com offers guys like you the most brutally honest, often shocking yet pragmatically useful source of male entertainment and education anywhere on the planet! Read answers to past questions below or "Ask Your Professor" a new question by clicking here!
You'll find real news and information that your Professor has personally selected for guys like you, a regularly updated blog, links to chicks way hotter than that Cinnabon with lipstick you call your "girlfriend" or, worse yet, that self-basting Butterball you call your "wife", as well as answers to your own posted questions.
Class is in session live every Thursday at 5 PM Pacific/8 PM Eastern on The Tom Leykis Show. The rest of the week, Leykis101.com will help you to stay on track and to be the kind of asshole women can't get enough of. So kick back, pay attention, and take some notes. Oh yeah, and act like a fucking man you simpering pussy!
The solution is, sweetie, if you can't handle the stress of having kids, then don't have any fucking kids. Demanding that men pay you for your time is not a good idea. All you're doing is giving men more reasons to withhold our genetic material and never, ever marry you!
Your Professor didn't want the responsibility and the stress of having children, and look how it turned out: a stress-free existence with paid up real estate, a wine cellar, travel, and amazing food porn posted on social media several times a week! Why, looky here! Here's something they're not serving at Chuck E. Cheese:
No one's putting a gun to your head, darling. You don't have to have kids. And most guys agree to have kids only at the end of the barrels of your guns, ladies! Face it, a significant number of us don't want the stress and lifestyle downgrade that having kids require. And now you want us to compensate you? FUCK YOU!