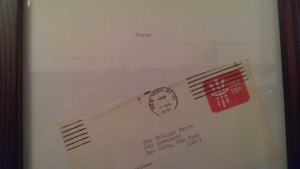 Late last night, in the midst of packing and preparing to go to New York City for a radio/internet seminar that I attend every year, I was busy posting this photo and excited about finally sharing it with you. And then, a strange thing happened.
I spent the night tossing and turning, hardly sleeping. Thinking, thinking.
I literally didn't get to sleep until 6:30 this morning. (PS: I feel like shit today.)
When I woke up, I realized that something had happened.
That "focus" letter.
Staring at it, taking a photo of it, posting it, and writing about it late last night was having a profound impact.
The simple message it quietly offered in all lower case letters was getting inside my head. Again. First in 1981. And then…now.  All of these things were going through my mind:
I have a ton of paperwork to do for The New Normal LLC, including booking revenue and paying bills.
New advertisers are pouring in. Five new ones last week alone.
We have all this momentum and now I would be taking three days away from the show, right in between our Memorial Day holiday and our 4th of July break.
We just passed 6 1/2 million tune-ins since Triton Digital began keeping our accredited metrics in September.
I am enjoying my work so much and the thought of a redeye tonight, a 5:45 AM arrival in New York (2:45 AM LA time) coupled with not being able to check into my hotel until 3 PM was killing my enjoyment of going and seeing everyone.
You would think that the letter had already done its job. I worked on radio stations for 28 amazing years following that letter and I made millions of dollars.  How in the world would I draw inspiration from it once again?
Here's how: I woke up this morning at about 10:30 and canceled my trip to New York. Cost me about $1,200. Best $1,200 I've spent this year.
I am following my heart. As I did when I was 25. I am focusing on the thing that is important. I am tuning out the noise.
What is important is continuing to see this project through. To not ease up. To keep the momentum going.
I was going to announce on a panel at this forum that, on June 30th, six months into 2013, we will have brought in as much revenue as we did in all of 2013. And, combined with a sharp reduction in costs, we are likely on a path to breaking even or better for the first time.
How ironic it would be to fly 3,000 miles at a cost of about $3,000, leaving things here at home for almost five days and dampening our momentum, to make this announcement. Besides, I just made it!
Instead of going out drinking with my radio and TV friends in New York, I am staying home and doing what is really important. I will be here in Burbank doing paperwork. Booking revenue. Doing every show live the remainder of the week
My sincerest apologies to all who I have inconvenienced, especially including radio legend Michael Harrison of the fabulous Talkers 2013 seminar.
The focus letter has kicked my ass. It has taken over my soul. Again.
I hope this message inspires you to do what it takes. Today.
Remember, it is more important to do than to think about doing.
focus