From Tom's Blog
Every single day lately, I have to admit that I've been in a deep funk.
I'm not one to wallow in nostalgia. But, in this case, I just can't help it.
I am deeply sad because someone who, in every way, has deeply influenced me and my life as I know it as well as many major life decisions, someone who has been my companion, someone who has lulled me to sleep at night and has kept me engaged by day, someone who has, seemingly, been alongside me and who has never disappointed me in any way, is leaving my life for good. What's more, I could barely stand the idea that he might never know what he has meant to me.
On Thursday, October 14, 1965, my life changed forever.
Instead of being in school on this sunny Thursday afternoon off Fordham Road in the Bronx, I found my 9-year-old self on sitting on the floor of my grandmother's fifth-floor living room. My grandmother had the only color TV (pictured below) in our family, so her living room floor was where I was frequently parked while my parents visited with her.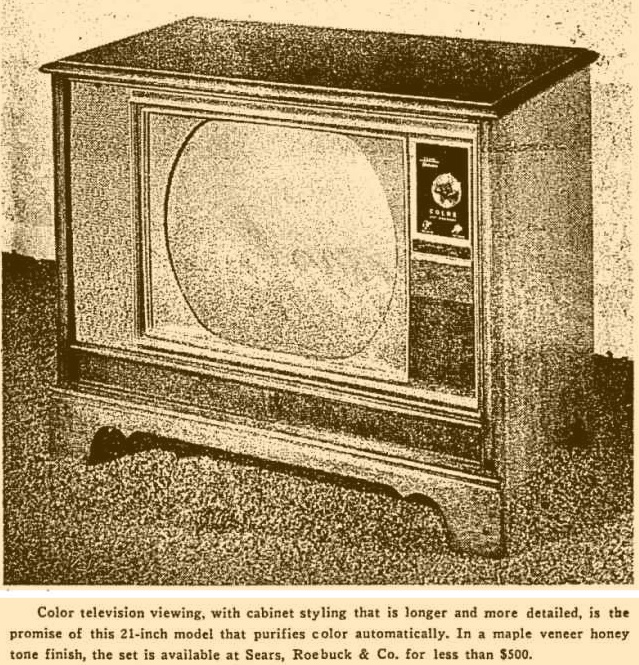 Above: the exact model of Sears color TV in front of which Vin Scully changed my life forever.
As part of growing up with my sports-addicted father, I was exposed to baseball as a very young child, and there were certain things I grew up knowing about or having seen. After the New York Giants moved to San Francisco in 1958, for a few seasons, I actually remember seeing San Francisco Giants games that were carried on Newark, New Jersey's WNTA channel 13. I learned that the Brooklyn Dodgers had been seen on New York's WOR channel 9 until they moved to Los Angeles. I was told that these teams were nothing but "carpetbaggers" for leaving New York for the "fruits, nuts and flakes" that supposedly populated California.
And then came Thursday, October 14, 1965.
1965 was a very bad year for New York's two baseball teams. The New York Yankees, who had lost to the St. Louis Cardinals in the 1964 World Series, finished the 1965 season a full 25 games behind the American League champions, the Minnesota Twins. The New York Mets, who began their existence in 1962, finished last in the National League for their fourth straight season, an unimaginable 47 games behind the Los Angeles Dodgers.
Since I lived in The Bronx, I really had nothing invested in either team that was playing in the World Series between the league champion Minnesota Twins and Los Angeles Dodgers and, to be honest, I hadn't watched the first six games of the Series. But, on this fateful day, young, bored me turned on my grandmother's brand new Sears Color TV and tuned over to watch the black and white coverage of 1965 World Series Game 7 (the entire broadcast I had watched in 1965 appears below).
At nine years old, I had never really paid attention to how World Series games were done on TV. There was no national announcer back then, such as today's Joe Buck.
NBC, which by 1965, had carried every World Series game since the first televised World Series game in 1947, had turned to using the local play-by-play announcers of each team to broadcast each year's World Series. This meant that, for game 7 of the 1965 World Series, many viewers would hear, for the first time, the Minnesota Twins' Ray Scott (later better known as a national NFL play-by-play man) as well as the announcer who did play-by-play for the Los Angeles Dodgers, some guy named Vin Scully.
The day I was born in 1956, Vin was already in his seventh season doing Dodger baseball. Vin Scully was a name I had heard, mostly through the clenched teeth of angry Brooklynites in my mother's Park Slope family who remembered that he had been the Brooklyn Dodgers' play-by-play guy before owner Walter O'Malley took "their" Dodgers to Southern California. Very few New York baseball fans seemed to remember if he had been good or bad at his job, just that he was part of the group of "carpetbaggers" who had taken "our team away".  Having heard his name being discussed this way, I was anxious to listen to Vin and see if I could imagine, at nine years old, how the Brooklyn Dodgers may have sounded on TV or radio.
As a kid growing up in the Bronx, it seemed as if you had to grow up in the deep South just to have a shot at being a baseball play-by-play man. Previously, my entire childhood experience of hearing baseball play-by-play in New York had been nothing but the southern intonations of the Mets' Lindsey Nelson (who was Craig Sager before there was Craig Sager), and the Yankees' Mel Allen and Red Barber.
The New York Mets' Lindsey Nelson in colorful pre-Craig Sager attire.
But that all changed on Thursday, October 14, 1965.
In a brilliantly pitched game by the amazing Sandy Koufax, here was Vin Scully, complete with his New York accent, professional and smooth in ways I had never heard before. Even at age nine, I could tell in his style that Vin was conscious of being heard nationally and so it's a Vin Scully that is somehow different from the Scully we in Southern California know today, devoid of historical minutiae, Shakespeare quotes and showtune references, but full of a kind of professionalism, energy, and attention to detail I had never heard before. I was mesmerized.
At this young age, I was hooked. I knew that I wanted to be some type of broadcaster. Unfortunately, except for the World Series, there was no way I was going to be able to hear Vin Scully on a regular basis in New York, so I went to the public library to learn whatever I could learn about him.
I found out that he grew up in the exact neighborhood where I was born in the Washington Heights section of Manhattan. I found out that, like my father, he grew up a New York Giants baseball fan.
Once I found out that he had attended Fordham University, just walking distance from my grandmother's Bronx apartment, I started scheming to go to college there. I became obsessed with wanting to broadcast on WFUV, the Fordham radio station Vin Scully helped to found. And, at sixteen, I became the youngest student at the time to attend Fordham, majoring in communications.
Any time I saw Vin Scully's name in TV Guide, I watched whatever he did. Golf coverage. NFL play-by-play. A talk show called The Vin Scully Show. This daytime game show:
This promo for the 1966 Rose Parade:
With time, I also found other connections, to Vin Scully, to the Dodgers, and to Los Angeles.
Once I found out that my mother's sister, Bernadette O'Mara, had attended Catholic high school in Brooklyn's Park Slope with the son of the Dodgers' owner, one Peter O'Malley, this intensified my obsession with the Dodgers who, by now, were three thousand miles away.
I began to watch every Mets broadcast when they played the Dodgers in Los Angeles, which typically began at 10:30 PM where I lived. No Scully on the Mets' broadcasts, but I came to know the Dodgers' teams as well as any New York team. I also started watching every New York Knicks game late at night on New York's channel 9 when they played the Lakers. At this point, I became one of the few local kids who idolized Jerry West and Gail Goodrich.
By this point, I was obsessed with Los Angeles. In order to learn as much as I could about Southern California, I began to watch TV shows that were produced in LA such as Steve Allen's syndicated daytime talk show, where I saw him pull off stunts such as being hoisted by a crane high above Hollywood Boulevard as he played the piano. Regularly watched Bob Barker's old game show, Truth Or Consequences. Bob Crane of Hogan's Heroes was once the morning man on KNX? Tell me more! Learned how to pronounce Van Nuys, Sepulveda and La Cienega by watching shows such as Dragnet, Adam-12, and Emergency. I dreamed of the day when I could come to visit Los Angeles.
I finally got to see Los Angeles in person when my job at the time dispatched me for an assignment here in the winter of 1978. Couldn't hear Vin as it was wintertime, but the moment I stepped off the TWA flight from JFK on a 68-degree LA day, I knew that, at some point, I was coming here to live for good.
It took another ten years to finally make that happen, in the summer before Kirk Gibson's World Series home run and the Dodgers' last World Series championship. I felt as if it had taken a lifetime to finally come home. And now, I could see the Dodgers my relatives had grumbled about in person as well as tune into Vin Scully every single day for six months every year. It really was that important for me.
My radio gig provided me with the opportunity to meet many of the idols I had worshipped as I dreamed of coming to LA. I interviewed the aforementioned Steve Allen in studio. Met, interviewed and dined with Bob Barker numerous times. I had the thrill of interviewing David Crosby, Frank Zappa, Ralph Bakshi and so many more people who I had admired from afar. However, because I was on the competitor to Dodgers' radio station KABC, I simply couldn't ever get an interview with the man who changed my life, Vin Scully. In fact, many Dodger games appeared in afternoon drive opposite my show, and so Vin Scully was now not only my idol, but also my radio competitor. Guess who won in my first couple of years on LA radio? No contest.
Finally, many years later, I was being escorted through the Dodgers' press box by my former radio producer and now the Dodgers' Vice President of Broadcasting, Erik Braverman and he said to me, "let me take you in and introduce you to Vin." I could hardly breathe at the thought, but I had to try to maintain my cool.
Regardless, I stepped into Vin's booth as Erik introduced me and, I have to admit, I was awestruck and tongue-tied. I honestly can't even remember what I said to Vin, and the whole thing lasted maybe three minutes.
One reason I was tongue-tied was because I could never tell Vin in such a brief meeting just how much he has meant to me. And now, as Vin puts the finishing touches on his glorious career, I can't let him go without letting him know how much I had learned from watching and listening to him, and how much he has meant to my life.
Obviously, Vin Scully is, simply, the greatest broadcaster who ever lived. Most people notice how good he is at broadcasting Dodger games, but as a broadcaster, he is so much more than that for which he gets credit.
Here are some of the amazing lessons I learned about broadcast professionalism from Vin Scully that had nothing to do with baseball per se:
I have no idea how he kept it together following the death of his first wife, Joan as well as the subsequent death of his son Mike years later, and the death of his friend and broadcasting colleague, Dodger legend Don Drysdale.  All horrible tragedies that clearly affected him so deeply, and yet, Vin continued to do his stellar work. Maybe the thing I admire most about Vin.
Much as many Dodger fans detested the changes of ownership, first to News Corporation, then to Frank and Jamie McCourt, and finally to the current ownership, Vin Scully stayed in his lane and never let the frequent turbulence affect what he's done so well. I remembered this incredible professionalism example in 2009 in my own career when a format change I knew was coming ultimately put me out of a job. I learned from listening to Vin that the audience comes first and my personal issues come last.
The LA riots of 1992 and Darryl Strawberry's later comment about LA, "Let it burn. I don't live there any more. Let it all burn down," the controversy over the unpopular trade of Mike Piazza, the bankruptcy of the Dodgers under Frank and Jamie McCourt: you never heard about any of these on a Vin Scully broadcast. It was always about the game and Vin's respect for his audience.
Vin has always been honest when the Dodgers have underperformed without ever being mean or sarcastic, and he may be the last play-by-play man who will ever be allowed to be so honest.
Speaking of underperformance, the Dodgers haven't been to a World Series since 1988 and yet, Vin Scully has come back year after year when he could have simply faced this sad fact and walked away.
Although he was a born-and-bred New Yorker, Vin ultimately embraced the Dodgers' move to Los Angeles from Brooklyn, rode the wave of the transistor radio, and embedded himself into Southern California culture. You never heard Vin say that New York was better or that "you can't get good pizza out here!"
For the last three years of Vin's extraordinary career, most of Los Angeles couldn't even see him due to the Dodgers' $8.25 billion relationship with Time Warner Cable. Vin was essentially broadcasting into a black hole with a fraction of the audience to which he had been accustomed for so many decades. Yet, as angry as it made me as a viewer and a rabid Dodger fan, Vin continued to be the consummate professional, never bringing the subject up on a broadcast, in newspaper and magazine interviews, or even at press conferences which annually discussed whether or not he would return the following year. Some people wouldn't be able to handle being marginalized to reaching such a comparatively small audience. For Vin Scully, it was just another assignment that he took on magnificently. His last three years of work have been as good as, or even better than, any he's done.
In short, unlike so many people in the public eye who turn out to be jerks, in all the years I have known about Vin Scully, he has never, ever disappointed me professionally or as a person. No scandals, no public pissing matches. If he ever had an issue professionally or personally with anyone, Vin's audience never knew about that.
This summer, I have literally practiced living my future life without Vin Scully. Heard a variety of voices broadcasting Dodger games who are not Vin. I guess I'll get used to it. But I am not ashamed to say that I am going to miss Vin Scully horribly.
Over the years, I have taken afternoon naps, falling asleep listening to Vin's reassuring voice on hot LA weekends with the curtains closed and the air conditioning on, and awakened to him knowing exactly how long I'd slept by where Vin was in the game. I have taken long weekend drives with Vin as my wingman. I have been at the game standing in those interminable lines at Dodger Stadium waiting to purchase a single hot dog and a beer with the voice of Vin keeping me in the game as I waited. In fact, the main reason I've seen less games at the ballpark lately is because, in recent years, Vin has only done home games and, by attending any home game, I would miss out on one of my last opportunities to hear Vin work. I even canceled every appointment I had and blocked out the entire world so I could sit home and watch Vin's last three games from San Francisco.
Life will go on, of course, but it will never be as good as it's been with Vin by my side.
Many years, the Dodgers underperformed or were mismanaged, but Vin was my World Champion every single year. I had him, and so many others didn't. I would talk to friends in other states and try to explain how important Vin Scully was to the experience of living in Southern California, but no explanation could ever do Vin justice. Even this piece I've written doesn't get the job done, I'm sorry to say.
Yes, Vin Scully is the best baseball announcer ever. He's the best broadcaster ever. He can never be adequately replaced.
But for me, he is more than that.
Vin Scully is my muse. I am not the least bit ashamed or embarrassed to admit that, without ever knowing it, for fifty-one years, Vin inspired my life, my work, and my career ambitions and ultimately was the reason and inspiration for virtually every good thing about my life today.
How do you say goodbye to someone like that?