Welcome to Leykis 101.com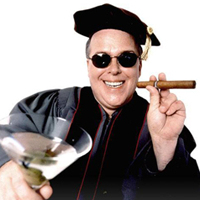 Gentlemen, look no further: you're finally home. Leykis 101.com offers guys like you the most brutally honest, often shocking yet pragmatically useful source of male entertainment and education anywhere on the planet! Read answers to past questions below or "Ask Your Professor" a new question by clicking here!
You'll find real news and information that your Professor has personally selected for guys like you, a regularly updated blog, links to chicks way hotter than that Cinnabon with lipstick you call your "girlfriend" or, worse yet, that self-basting Butterball you call your "wife", as well as answers to your own posted questions.
Class is in session live every Thursday at 5 PM Pacific/8 PM Eastern on The Tom Leykis Show. The rest of the week, Leykis101.com will help you to stay on track and to be the kind of asshole women can't get enough of. So kick back, pay attention, and take some notes. Oh yeah, and act like a fucking man you simpering pussy!
Less than a day after a recording emerged of Donald Trump
bragging about groping women off-camera during a 2005 appearance on Access Hollywood
, CNN's KFile has published the results of a review of newly-uncovered recordings of Trump's appearances on Howard Stern
's radio show.