Welcome to Leykis 101.com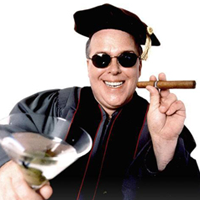 Gentlemen, look no further: you're finally home. Leykis 101.com offers guys like you the most brutally honest, often shocking yet pragmatically useful source of male entertainment and education anywhere on the planet! Read answers to past questions below or "Ask Your Professor" a new question by clicking here!
You'll find real news and information that your Professor has personally selected for guys like you, a regularly updated blog, links to chicks way hotter than that Cinnabon with lipstick you call your "girlfriend" or, worse yet, that self-basting Butterball you call your "wife", as well as answers to your own posted questions.
Class is in session live every Thursday at 5 PM Pacific/8 PM Eastern on The Tom Leykis Show. The rest of the week, Leykis101.com will help you to stay on track and to be the kind of asshole women can't get enough of. So kick back, pay attention, and take some notes. Oh yeah, and act like a fucking man you simpering pussy!
We have announced that The New Normal LLC is on target for our first deficit in four years.
There are two likely reasons for this. One is that we've been honestly telling you about our small profit each year, resulting in many listeners simply letting their Premium Tom and Super Premium Tom subscriptions lapse, thinking that we don't need their support anymore. Nothing can be further from the truth. Subscription revenue is our lifeblood. Now that we're not working for a big conglomerate anymore, we can't rely on those 7 ½ minute commercial breaks we had in corporate radio back when it was still viable. The other reason is because we parted ways this year with one of our advertisers (for good reason) and that revenue needs to be replaced.
We announced that our last show of 2017 will be on December 14th and that, if we are still in a position to lose money for the year on that day, we will make one last appearance to announce the fate of our show on Tuesday, January 2nd, 2018 at 3 PM Pacific/6 PM Eastern.
Listeners who would like us to continue into 2018 have a variety of ways to help make that happen:
• Become a subscriber to Premium Tom or to Super Premium Tom. You can subscribe for as little as $11/month or you can save 17% by subscribing for a year. Premium Tom gives you access to over 5,000 hours of our show dating back to the day we began on April 2, 2012. Super Premium Tom gives you access to those 5,000 hours and, for all shows after September 2014, all shows are commercial-free. Get details and subscribe at http://www.premiumtom.com/subscribe.
• Give a gift subscription to Premium Tom or Super Premium Tom to friends and family members. Go to http://www.givetom.com.
• Donate to keep us going. Go to https://www.premiumtom.com/one-time-donation.href="http://www.dinnerwithtom.com">http://www.dinnerwithtom.com.
• Enjoy our incredible 2015 Pedal to the Metal Santa Ynez Valley Syrah, a red wine that goes so well with barbecued brisket, steaks, chops, even pasta. Proceeds from the sale of Pedal to the Metal go directly to the bottom line at The New Normal LLC. Get yours now at http://www.tom.wine.
We want to keep going next year. Do you want us to keep going?