Welcome to Leykis 101.com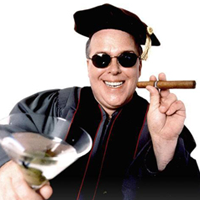 Gentlemen, look no further: you're finally home. Leykis 101.com offers guys like you the most brutally honest, often shocking yet pragmatically useful source of male entertainment and education anywhere on the planet! Read answers to past questions below or "Ask Your Professor" a new question by clicking here!
You'll find real news and information that your Professor has personally selected for guys like you, a regularly updated blog, links to chicks way hotter than that Cinnabon with lipstick you call your "girlfriend" or, worse yet, that self-basting Butterball you call your "wife", as well as answers to your own posted questions.
Class is in session live every Thursday at 5 PM Pacific/8 PM Eastern on The Tom Leykis Show. The rest of the week, Leykis101.com will help you to stay on track and to be the kind of asshole women can't get enough of. So kick back, pay attention, and take some notes. Oh yeah, and act like a fucking man you simpering pussy!
There's always one! A chick who stumbles onto the teachings of Your Professor and thinks she can win an argument. Here's a gal who calls Tom "an idiot" because he said, "Other guys' kids shouldn't be OUR problem. Single moms are raising tomorrow's drunks, addicts, and carjackers." Click here to see the entire exchange or to join in the fun. Hear Tom explain why single mothers are bad news to date, worse to get involved with, and the worst when you move in and take on the little brats she created with whatever losers she used to love fucking in the past!